Burlington, VT
Herbal Medicine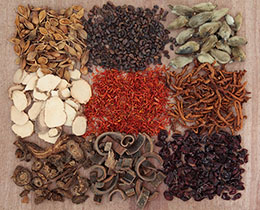 We provide customized eastern and western herbal formulas in easy-to-use tincture and powder form. Brendan has prescribed over 15,000 herbal medicine formulas to date to a diversity of patients. We maintain a full in-house Chinese herbal pharmacy and a large western herbal pharmacy also. Herbal medicine is particularly effective when formulated for each individual and the specific causes of each symptom as well as the underlying root issues. Many individual herbs and herbal formulas have been used continuously for several thousand years, with written references dating back as far as 3000 to 5000 years in the western and Chinese herbal traditions respectively.
There is no additional cost for the time to formulate herbal prescriptions with acupuncture appointments. The time for an initial herbal consultation (without acupuncture) is 60 minutes, with each subsequent follow-up being 30 minutes.
Herbal medicine can be combined with acupuncture or non-needle treatments or can be used on its own.
Jade Mountain Wellness Videos